Waarom gepersonaliseerde sieraden het mooiste cadeau zijn
Ben je op zoek naar een origineel en persoonlijk cadeau? Zeker wanneer je iemand al jaren kent, kan de inspiratie voor cadeaus wel eens opraken. Wij helpen je op weg: met een sieraad zit je zeker weten goed. Van dit unieke cadeau gaat de ontvanger letterlijk stralen én het laat zien dat jij echt over je cadeautje hebt nagedacht. We vertellen je meer..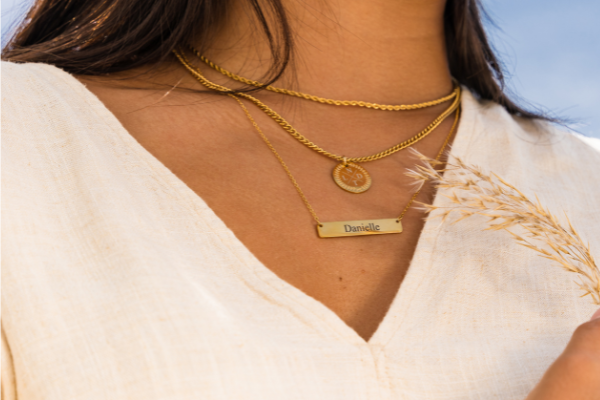 Gepersonaliseerde sieraden
Of je nu op zoek bent naar een cadeautje voor een jarige, afgestudeerde of voor een feestdag als Moederdag: met een sieraad zit je altijd goed. En denk je nu: "help, ik weet niet waar te beginnen"? Geen paniek, wij geven je een aantal tips om het juiste gepersonaliseerde sieraad te shoppen. 
Eigenlijk is een sieraad al vrij snel gepersonaliseerd. Jij kiest namelijk het product, de kleur én het materiaal. De collectie van KAYA is vrij breed, waardoor je altijd wel een geschikt sieraad vindt. Denk aan kettingen, armbanden, ringen en oorbellen voor dames en kinderen en ga voor een gepersonaliseerde armband, sleutelhanger of setje manchetknopen voor heren. De sieraden zijn er van zilver tot (rosé)goud en van zwart tot bruin: het kiezen van het juiste sieraad kan dus lastig zijn. Onze tip: kijk goed wat voor sieraden de ontvanger al draagt. Je kunt hier makkelijk uit opmaken met welk sieraad je hem of haar blij maakt. Dan is er nog de keuze voor het materiaal van het sieraad: bij KAYA vind je sieraden van .925 sterling zilver, verguld (rosé)goud en roestvrij staal. Allemaal sterke materialen die lang mooi blijven. Je kunt deze keuze dus ook baseren op het budget dat je voor dit cadeautje apart hebt gezet: roestvrij stalen sieraden zijn net wat voordeliger. 
Zo! Wanneer je al deze keuzes hebt gemaakt, heb je eigenlijk al een gepersonaliseerd sieraad samengesteld. Maar ga je liever nog een stapje verder? Kies er dan voor om het sieraad te laten graveren. Een persoonlijke tekst, namen of data: wij graveren jouw persoonlijke tekst met liefde op het gekozen sieraad. Dit unieke cadeau zal zeker in de smaak vallen.
Gepersonaliseerde sieraden man
Wellicht denk je niet meteen aan sieraden wanneer je op zoek bent naar een cadeau voor een man. Toch zien we steeds vaker dat ook mannen gepersonaliseerde sieraden dragen. Van stoere armbanden met een beachy look tot een klassieke set manchetknopen, de mogelijkheden zijn eindeloos. Verras je hem namens de kids? De sleutelhanger met gravure of eigen tekening draagt een bijzondere boodschap met zich mee: rijd voorzichtig, we houden van je. Een echt mannencadeautje? De gepersonaliseerde bieropener met gravure doet het altijd goed. Zo is er bij KAYA voor iedere man een gepersonaliseerd cadeautje te vinden. Waarmee ga jij hem verrassen?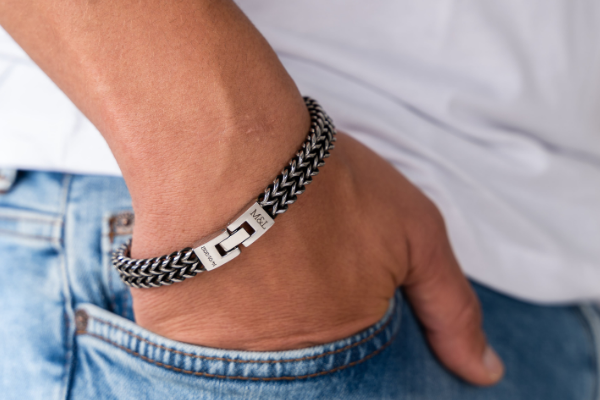 Gepersonaliseerde sieraden vrouw
Sieraden voor vrouwen: met zo'n cadeautje kan het eigenlijk niet mis gaan. Verras je haar met een gepersonaliseerde ketting, ring of armband met gravure? Misschien heb je onlangs al eens opgevangen dat ze naar een specifiek sieraad op zoek is? Verras haar door te laten zien dat je echt luistert en ze gaat spontaan stralen. Wist jij dat je op al onze sieraden zowel een binnen- als buitenzijde en voor- en achterkant kunt laten graveren? Zo is er genoeg ruimte om jouw persoonlijke boodschap over te brengen. Het gepersonaliseerde sieraad wordt netjes verpakt in een luxe sieradendoosje. Leuk om het cadeautje in te geven én handig om het sieraad in te bewaren. Wat zal ze blij verrast zijn met het door jou samengestelde sieraad!