De juiste maat bepalen – ring & armband
De wereld van het online shoppen.. voor ons niet meer weg te denken uit het huidig (Google)straatbeeld. Vanuit je luie stoel vul je het ene winkelmandje na het andere & vaak staat de pakketbezorger de volgende dag al op de stoep, ideaal! Bij Kaya op kantoor bespreken we haast wekelijks een nieuwe dosis online aankopen. Vaak kleding, dit wordt ons dankzij de maattabellen & online paskamer-assistent dan ook wel erg gemakkelijk gemaakt.
Met sieraden ligt dit helaas iets anders. Er is (nog) geen tool waarmee je online de juiste maat voor een passende ring of armband kunt bepalen, en dat is lastig. We ontvangen hierover regelmatig de vraag :
"hoe weet ik welke maat ik het beste kan nemen?"  
Natuurlijk is er op deze vraag geen eenduidig antwoord te geven. Is het een cadeautje, shop je de armband voor jezelf? Om welke vinger ga je de ring dragen?
Op afstand kunnen we de juiste maat helaas niet voor je bepalen, maar we helpen je graag verder. We zetten een aantal handige trucjes voor je op een rij, lees je mee?
Ring
Het is vrij lastig zelf de juiste ringmaat op te meten. Om het je gemakkelijk te maken, kun je bij ons een handige meet- en pasring bestellen. Plaats je de bestelling vóór 14:00 uur? Dan heb je de pasring de volgende dag al in huis!
Liever geen pasring bestellen omdat de bestelling bijvoorbeeld ietwat haast heeft? Hieronder leggen we je in een aantal stappen uit hoe je zelf de maat kunt opmeten:
Bepaal om welke vinger je de ring wil gaan dragen
Knip een strook papier van ongeveer 13cm lang en 1 cm breed
Wikkel deze strook rond het breedste gedeelte van de vinger. Dit is vaak het gedeelte bij de knokkel. Tip: gebruik een oude ring om het breedste plekje van de vinger te vinden
Markeer het punt waar de uiteindes van de papierstrook elkaar overlappen met een pen of potlood
Gebruik een liniaal om het gemarkeerde stukje van de strook op te meten.
Vind op basis van deze lengte de juiste ringmaat in onderstaande maattabel. Zit je net tussen twee ringmaten in? Kies dan voor de grootste maat.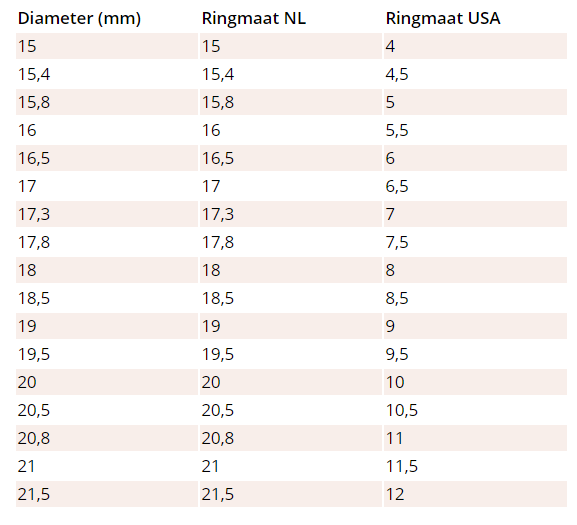 Armband
Het bepalen van de juiste maat armband, is gelukkig een stuk makkelijker. We raden je aan de pols met een meetlint op te meten. Meet de pols strak op het punt waar je de armband wilt gaan dragen. Bij de kinder- en damesarmbanden raden we je aan 1cm bij de uitkomst op te tellen. Bij de leren heren armbanden, raden we aan 2 - 2,5 cm bij de uitkomst op te tellen.
Aan veel van Kaya's sieraden zit een verlengkettinkje van 3cm. Hierdoor kun je het armbandje op verschillende lengtes dragen & groeit het jaren met de kleine kids mee.
Let op! Je zult bij veel armbanden op de website een leeftijdsadvies zien staan. Dit is een indicatie van de gemiddelde maat per leeftijd, dit is geen garantie. We raden je altijd aan zelf nog even de pols op te meten voorafgaand aan het bestellen.
Met bovenstaande tips kun jij gerust die ene geboortesteenring en de rundleren vader/zoon armbanden in de juiste maat bestellen. Houd er wel rekening mee dat een gegraveerd sieraad niet zomaar geruild kan worden. Wees er dus alert op dat je de juiste maat aanvinkt.
Veel plezier met shoppen!
P.S. voor onze pakketjes hoef je niet  thuis te blijven! We verzenden alle sieraden per brievenbuspost, hoe fijn is dat!