Geboortesteen november
Wanneer je in de wintermaand november geboren bent, weet je vast al dat je schorpioen of boogschutter bent. Maar wist je dat er ook een uitzonderlijk mooie geboortesteen is die aan jouw maand is gekoppeld? Dat is citrien en daar vertellen we je graag meer over in deze blog. 
Welke geboortesteen hoort bij november? 
Bij november hoort citrien, de heldere gele geboortesteen die net zo mooi straalt als de zon. Wanneer citrien in de natuur wordt gevonden, varieert de kleur van lichtgeel tot diep oranjebruin. Meestal wordt citrien geassocieerd met tinten geel en oranje, en de specifieke kleur kan variëren afhankelijk van bijvoorbeeld de herkomst, de hoeveelheid ingesloten onzuiverheden en de manier waarop het is geslepen en gepolijst. Over het algemeen wordt de kleur van citrien vaak vergeleken met de warme tinten van de zon en wordt het vaak geassocieerd met positiviteit en vreugde. De geboortesteen sieraden van KAYA zijn gemaakt van kraakheldere kristallen die op een bijzondere manier zijn geslepen zodat ze prachtig schitteren en jou laten stralen. Dus wil jij het zonnetje altijd bij je dragen, dan is dit jouw kans.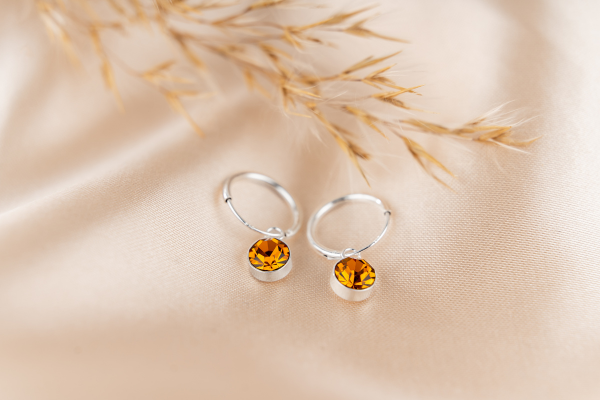 Wat is een geboortesteen? 
Natuurlijk is het goed om eerst te weten wat een geboortesteen precies is. Heel letterlijk genomen kunnen we de geboortesteen omschrijven als een steen die is gekoppeld aan je geboortemaand. Logischerwijs zijn er dus twaalf geboortestenen, ook wel edelstenen, met ieder een symbolische link aan een bepaalde maand. Vanuit de geschiedenis worden deze edelstenen gedragen als een soort talismannen. De speciale krachten die de stenen met zich meedragen werden zo op de persoon overgedragen. Al in de middeleeuwen was er een sterk geloof in het verband tussen de twaalf geboortemaanden, sterrenbeelden en krachtige edelstenen. Zo heb je naast je sterrenbeeld dus ook een eigen geboortesteen die jou richting kan geven in het leven. 
Lees deze blog voor meer informatie over de geboortestenen per maand.
Geschiedenis van citrien, de goudgele geboortesteen
De geschiedenis van citrien gaat terug tot de oude tijden. De oude Grieken en Romeinen droegen deze steen als bescherming tegen het kwade oog en als symbool van welvaart. De naam "citrien" is afgeleid van het Franse woord "citron", wat citroen betekent, vanwege de vergelijkbare kleur. In de 19e eeuw werd citrien herontdekt en opnieuw gewaardeerd door Europese sieradenontwerpers, die de steen graag gebruikten in hun creaties. Net zoals wij dat bij KAYA tot vandaag de dag nog steeds doen.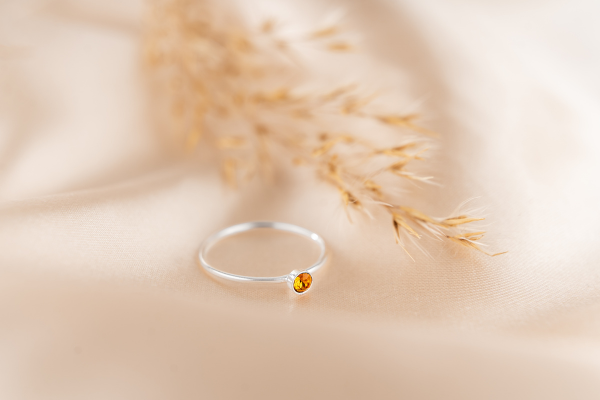 Wat zijn de eigenschappen van deze november geboortesteen?
Citrien staat symbool voor warmte, positiviteit en vreugde. Het wordt geassocieerd met de zon en wordt vaak gezien als een bron van positieve energie. De steen wordt beschouwd als een geluksbrenger en wordt gedragen om negatieve gedachten te verdrijven en optimisme te bevorderen. Citrien wordt soms ook gezien als een steen die succes en welvaart zou kunnen aantrekken. Citrien, ook wel bekend als 'de steen van de zon', is een variant van het mineraal kwarts. De steen wordt niet alleen gewaardeerd om de schitterende kleur, aan citrien worden ook meerdere eigenschappen toegeschreven. Zo wordt erover gesproken dat citrien het zelfvertrouwen versterkt, levensvreugde en moed vergroot en helpt om angsten te overwinnen. Dat zijn een boel mooie eigenschappen, wie wil dat niet! Bij KAYA laten we je stralen met onze kristalheldere geboortestenen, dat weten we in ieder geval zeker! 
Hoe kun je deze gele geboortesteen sieraden combineren?
De gele geboortestenen van november hebben wij verwerkt in verschillende sieraden. Zo kun een steentje aan je ketting hangen of kies bijvoorbeeld voor deze sprankelende geboortesteen oorbellen van november met de goudgele kristallen. Je kunt veel sieraden nog personaliseren waardoor je jouw unieke sieraad bij elkaar samenstelt. Hoe combineer je deze kleur nu met je kleding? Omdat geel zo'n aparte, knallende kleur is, is ons advies om dit te combineren met een strakke basiskleur. Denk aan zwart, donkergrijs of wit. Hierdoor zul je zien dat de krachtige gele kleur eruit springt. Maar hoe je het ook combineert, het allerbelangrijkste is natuurlijk dat jij er blij van wordt om dit mooie unieke persoonlijke sieraad te dragen en dat jij ervan gaat stralen!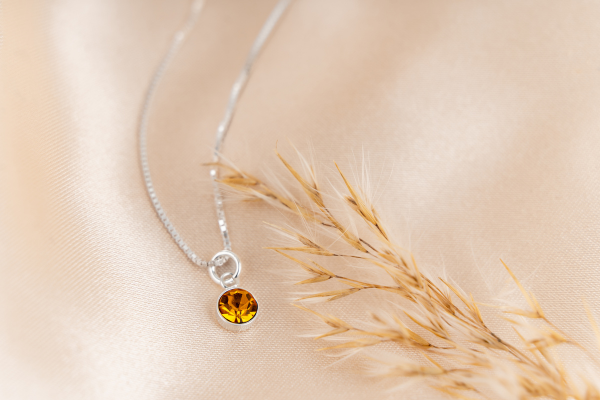 Shop hier de geboortesteen sieraden van KAYA 
Geboortesteen sieraden complete collectie
Armbandjes met geboortesteen
Kettingen met geboortesteen
Ringen met geboortesteen
Oorbellen met geboortesteen
Geboortesteen bedeltjes
Combineer met andere symbolische sieraden
Geboortebloem sieraden
Vingerafdruk sieraden
Ketting met sterrenbeeld
Kraamcadeau met naam
Geboortestenen per maand en kleur
Januari geboortesteen = rode granaat
Februari geboortesteen = paarse amethist
Maart geboortesteen = lichtblauwe aquamarijn
April geboortesteen = witte diamant
Mei geboortesteen = groene smaragd
Juni geboortesteen = zachtroze amethist
Juli geboortesteen = rode robijn
Augustus geboortesteen = lichtgroene peridot
September geboortesteen = paarsblauwe saffier
Oktober geboortesteen = hardroze rozenkwarts
November geboortesteen = oranje citrien
December geboortesteen = groenblauwe topaas
Dit artikel is door KAYA Sieraden aangepast in augustus 2023