Dé sieradentrends van de herfst
Herfst brengt niet alleen koelere temperaturen en verkleurende bladeren met zich mee, maar ook nieuwe modetrends. Dit seizoen draait alles om de Urban Chic collectie en klaver sieraden. In dit artikel lees je dé herfsttrends en laten wij je zien hoe je de nieuwste collectie van KAYA Sieraden op een stijlvolle manier kunt dragen!
Urban Chic sieraden: Stoere elegantie in de herfst
Val deze herfst op met een stainless steel kralenketting in de kleuren zwart, groen en donkerblauw. Een gepersonaliseerde ketting uit de nieuwe Urban Chic collectie is een musthave voor het aankomende seizoen! Je kunt bedels toevoegen aan de ketting om jouw eigen stijl te laten zien. Jouw eigen initiaal, een grachtenpandje of een andere stainless steel bedel? Voel je vrij om de bedels te combineren en te ontdekken welke stijl bij jouw past. De kralenketting voegt kleur toe aan elke outfit en is een echte eyecatcher!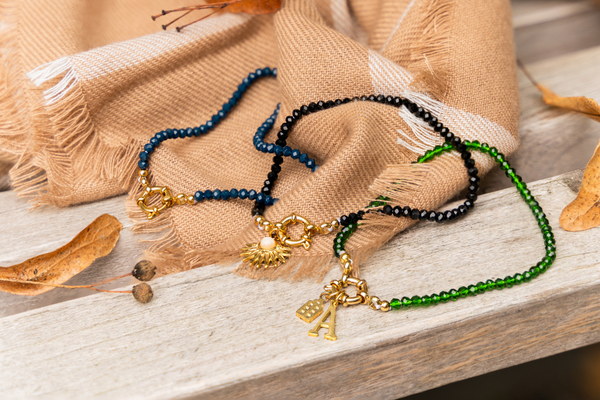 Klaver sieraden: Een symbool van geluk
Dé trend van dit seizoen zijn klaver sieraden! Het klaverblad, met zijn vier blaadjes, staat voor geluk en positiviteit. De klaver armbanden zijn subtiel en mooi, perfect om je pols te versieren. De klaver kettingen hangen dicht bij je hart en brengen niet alleen geluk, maar voegen ook een vleugje elegantie aan je look toe. Of je nu op zoek bent naar geluk of gewoon iets moois, deze klaver sieraden zijn een eenvoudige en betekenisvolle toevoeging aan jouw sieradencollectie. Ga jij voor de parelmoer klaver armband of voor een klaver ketting met initialen?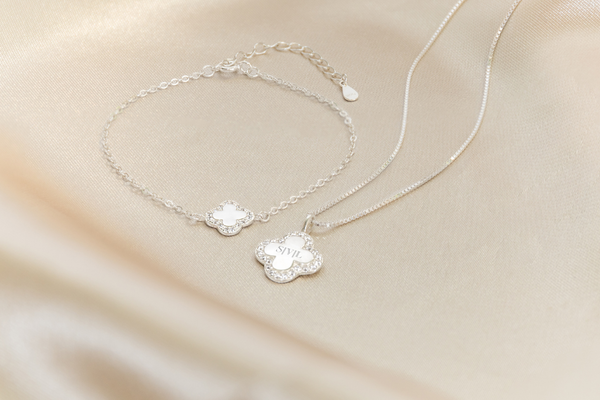 Schakelarmband: Stijlvol en veelzijdig
Heb jij de nieuwe trend al gespot? Wij hebben het natuurlijk over de schakelarmband! Bij KAYA Sieraden vind je schakelarmbanden in verschillende stijlen. Van fijne schakels met kralen in warme herfsttinten tot schakelarmbanden met een schitterende gravure. De schakelarmbanden kunnen enkel worden gedragen voor een subtiele look, maar kunnen ook gecombineerd worden met andere armbanden. De schakelarmband is dus een veelzijdig sieraad die je outfit een extra touch geeft! Welke schakelarmband past bij jou?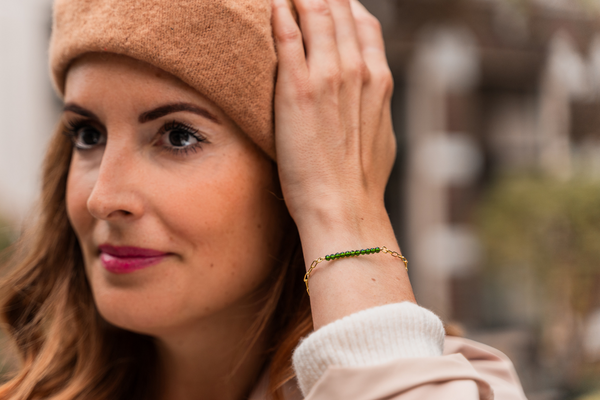 Statement oorbellen: De gedurfde musthave
Wil je dit najaar schitteren? Dan zijn de statement oorbellen van KAYA sieraden echt iets voor jou! Door de opvallende designs en de mooie gouden kleuren laat jij je outfit nog meer stralen. Of je nu overdag een mooie warme herfst trui aan hebt of 's avonds voor chic gaat, statement oorbellen zijn een essentiële aanvulling op je outfit deze herfst!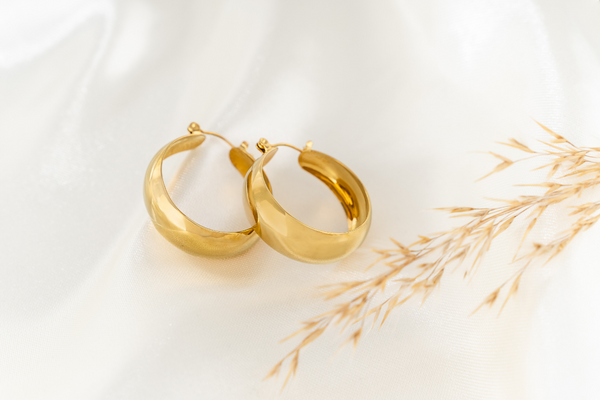 Layeren van kettingen: Laat jouw eigen stijl zien
Ook aankomend seizoen is het layeren van kettingen een trend! In plaats van één enkele ketting te dragen, gaat het nu om het combineren van meerdere kettingen in verschillende lengtes en materialen. Zo creëer je een unieke herfstlook! Wat dacht je van de kralenketting met daarbij een langere ketting met letter? Het gaat om het uitproberen van verschillende kettingen en het uitdrukken van je eigen stijl.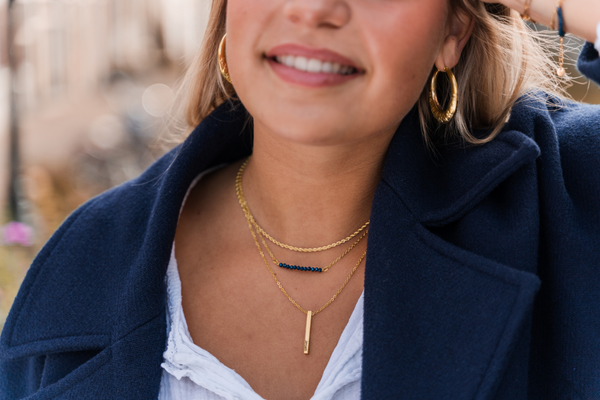 Geen zin om zelf kettingen te layeren? KAYA Sieraden heeft deze super leuke set van stainless steel kettingen al voor je samengesteld! Door de persoonlijke gravure maak je deze set helemaal eigen.
De musthave sieraden deze herfst: Hoe te stylen?
Dit seizoen betekent laagjes, warme texturen en knusse outfits. Een slimme manier om je herfst sieraden te dragen, is door ze te combineren met je favoriete herfstkleding. Denk aan een zachte trui of een mooie sjaal. De Urban Chic collectie leent zich perfect voor deze stijl.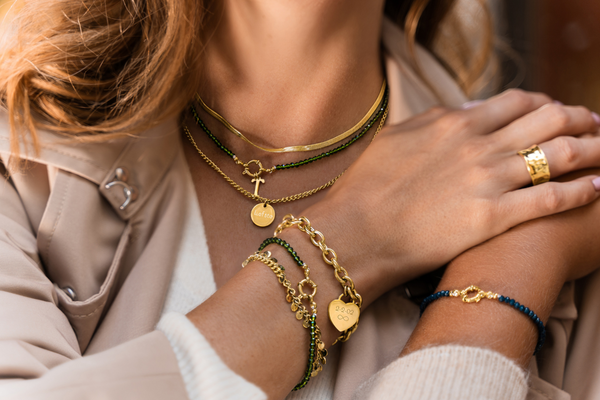 Je kunt deze sieraden ook gebruiken als statement pieces. Kies een aantal opvallende sieraden en combinaties met warme herfstkleuren om jouw outfit een boost te geven. De kleur groen is onmiskenbaar verbonden met de herfst, en het is een kleur die niet alleen warmte uitstraalt, maar ook een vleugje frisheid toevoegt aan je herfstoutfits. 
Herfst sieraden maken je look mooi en warm. Met hun rijke kleuren en betekenisvolle details brengen ze iets speciaals. Dus, draag ze en voel de magie van de herfst. Voor welk sieraad ga jij dit seizoen?
Auteur: Tanja Rakhou is eigenaar van KAYA Sieraden. Dé sieraden webshop voor gepersonaliseerde sieraden voor een scherpe prijs en degelijke kwaliteit.