Lengte ketting vrouw: zo bepaal je de maat
Het is één van de meest gestelde vragen bij onze klantenservice: welke maat ketting heb ik nodig? Ergens is dit natuurlijk heel persoonlijk, want de een houdt van een lange ketting terwijl de ander haar ketting liever kort op de hals draagt. Maar toch zijn er ook richtlijnen die je kunt aanhouden bij het kiezen van de juiste lengte. Welke maat ketting past het beste bij jou? En welke maat wordt het meest verkocht? In dit artikel vertellen we je alles over de verschillende lengtes en hoe deze bij jouw type gezicht passen. Zo weet jij straks precies welke lengte ketting je nodig hebt. 
Halsketting maten voor dames
Wellicht heb je er nooit zo bij stil gestaan dat ook kettingen, net als ringen en armbandjes, in verschillende maten te vinden zijn. Van lang tot kort en alles daar tussenin, jij kiest zelf op welke hoogte je jouw nieuwe ketting draagt. Veelvoorkomende halsketting maten voor vrouwen zijn: 
♡ 42 cm              ♡ 60 cm
 ♡ 45 cm              ♡ 70 cm 
♡ 50 cm              ♡ 80 cm
Deze lengtes zeggen je misschien nog niet zo veel. Want hoe valt de ketting dan bij jou? Welke maat kun je het beste kiezen en welke ketting past het beste bij de bedel die je hebt uitgekozen? Een fijne richtlijn is het formaat van de bedel, hiervoor geldt: hoe grover de hanger, des te langer de ketting mag zijn. Een hanger van bijvoorbeeld 40 bij 30 mm past goed bij een ketting van 70 tot 80 cm. Kleinere bedeltjes draag je liever hoog in de hals, voor een klassiek effect. Ook jouw eigen kledingstijl kan bepalend zijn in het kiezen van de lengte. Draag je vaak wat hoger gesloten t-shirts, dan is een lange ketting die hier overheen valt mooi. Bij een subtiel decolleté trek je de aandacht door de ketting iets hoger of net boven de borst te dragen.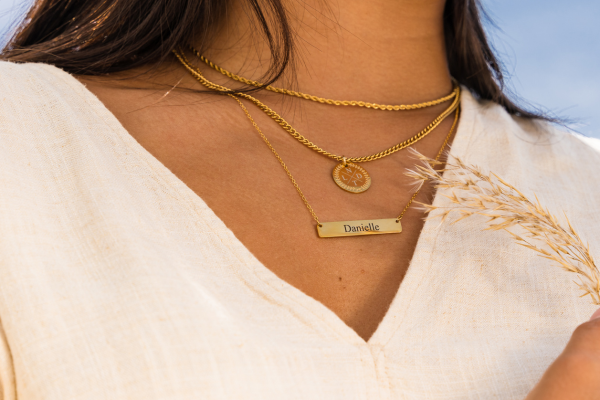 Meest gedragen maat ketting voor dames
We zien dat de meeste dames de ketting laag in de hals dragen. Een eventuele bedel aan de ketting valt op deze manier net onder het sleutelbeen en boven de borst. Hiermee wordt een gemiddeld maatje van 40 tot 50 cm het meest gekozen. Ook binnen KAYA merken we dat onze maat 42 + 5 cm het meest wordt verkocht. Aan al onze kettingen vind je meerdere oogjes of een verlengkettinkje, waardoor ze op verschillende lengtes te dragen zijn.  
Maar wat doe je als het een cadeau is voor je moeder?
Een ketting, met of zonder graveerbedel, is een ontzettend populair dames cadeau. Wel is het dan belangrijk om goed over de lengte van de ketting na te denken. Een persoonlijk cadeau voor je moeder  kan namelijk op een andere lengte uitkomen dan een cadeau voor oma of je partner. Hoe kom je er nu achter wat de juiste lengte is voor een cadeau? Onze tip is altijd: probeer stiekem te achterhalen waar ze van houdt. Let goed op wat ze draagt en spiek misschien stiekem even in haar sieradenkistje. Je kent de  vrouw die zo dichtbij je staat vast goed: welk soort kleding draagt ze graag? Ga voor de ketting die hier goed bij past. 
Meten is weten, bepaal zelf je ideale lengte halsketting
Twijfel je nog of vind je het fijn om de lengte even uit te proberen? Begrijpen wij helemaal. Helaas is het in een webshop lastig om sieraden te passen. Zeker wanneer je voor een ketting met naam gaat, kun je deze niet passen en weer retourneren als de maat niet juist is. Daar hebben wij natuurlijk iets op bedacht, lees je mee? Je kunt een meetlint gebruiken om de juiste maat te achterhalen. Bepaal voor jezelf op welke hoogte je de ketting zou willen dragen en boots met het meetlint de ketting na. Van het meetlint lees je vervolgens gemakkelijk de juiste maat af. Geen meetlint in huis? Gebruik dan een lang touwtje en leg deze vervolgens langs een rolmaat of lineaal, werkt net zo goed! Heb jij de juiste maat ketting voor jezelf bepaald? Stijl je look dan af met een mooie armband of een stijlvol paar oorbellen dat bij jou past!
Meerdere laagjes kettingen samen dragen
We zien steeds vaker dames of jonge meiden die meerdere kettinkjes onder elkaar dragen. Layeren wordt dit ook wel genoemd. Het dragen van verschillende kettinkjes geeft een speelse look en het is ideaal voor hen die niet kunnen kiezen. We geven je een aantal tips voor de perfecte layered look. Start met een ketting hoog in de hals, bijvoorbeeld met een ketting van 40cm. Daaroverheen leg je een ketting van 45 of 50 cm, het is maar net hoeveel kettingen jij in je look wil verwerken. Je eindigt met een ketting die nog net iets langer is. De meeste layered looks bestaan uit een set van drie tot vier kettinkjes. Draag je er meer? Dan is de kans groot dat het een vrij druk geheel wordt waardoor de kettingen in elkaar draaien. De hangers aan je layered kettingen kunnen ook van elkaar verschillen. Je begint bovenin met een subtiel bedeltje en eindigt aan de langste ketting met een wat grotere hanger. Ook een goede tip: houd het bij één kleur. Kies zilver, goud of rosé en mix deze kleuren niet. Ga je voor gemak? Shop dan een multi-string ketting waarbij meerdere kettinkjes al aan elkaar vast zitten. Scheelt je keuzestress en veel tijd in de ochtend!
Hoe heet een maat van een ketting?
Wist je dat iedere lengte een eigen naam heeft? In onderstaand overzicht vind je een kort overzicht van de verschillende soorten kettinkjes.  
♡ Choker: dit is een korte ketting die strak rond de nek valt. Meestal is deze ketting tussen de 35 en 40 cm lang. Je draagt hem bij vrijwel iedere outfit, iets minder leuk en opvallend bij een coltruitje.
♡ Princess: de meest gekozen ketting, tussen de 40 en 45 cm. Deze valt meestal in het kuiltje van de hals, tussen je sleutelbeenderen. Het is een klassieke ketting, perfect voor bij een blouse bijvoorbeeld.
♡ Matinee: deze ketting is net wat langer, ongeveer 50 tot 60 cm. Deze valt op je borst, en soms zelfs tot aan het begin van je decolleté. Staat goed bij een ronde halslijn.
♡ Opera: ga je voor nog iets langer, dan draag je met 70 of 80 cm een opera ketting. Die vallen vanaf je middenrif of helemaal tot je navel. Deze ketting is geschikt voor mooie grote hangers. Je moet dan wel een dikkere ketting nemen, want een lange, dunne ketting is te gevoelig voor breken op deze lengte. Een opera ketting kun je ook dubbelslaan om je nek, dus hij is op meerdere manieren te dragen.
♡ Rope: een ketting langer dan 90 cm noemen we een rope. Deze gebruiken we als superlange ketting voor bijvoorbeeld zwangerschapsbelletjes. 
Beste lengte ketting voor kinderen
Niet alleen dames, ook de kids zijn gek van sieraden. We bespreken in deze laatste alinea daarom nog even kort de beste ketting lengtes voor kinderen. Logischerwijs zijn de kettinkjes jonge meiden of jongens wat korter dan de dameskettingen. In onze webshop vind je vooral kettinkjes van 35 tot 40 cm. We zorgen voor twee oogjes aan de ketting, zodat ze op beide lengtes te dragen is. Op latere leeftijd, wanneer ze een groeispurt hebben gehad, kunnen kinderen over naar een lengte van 45 cm. Langer dat dit raden we je niet aan; kinderen rennen, spelen en vliegen in het rond. Je wil niet dat ze met de ketting ergens achter blijven steken. Ons advies is daarom altijd: laat je kinderen alleen onder toezicht van een volwassene sieraden dragen. Want stijlvol is leuk, maar veiligheid staat altijd voorop!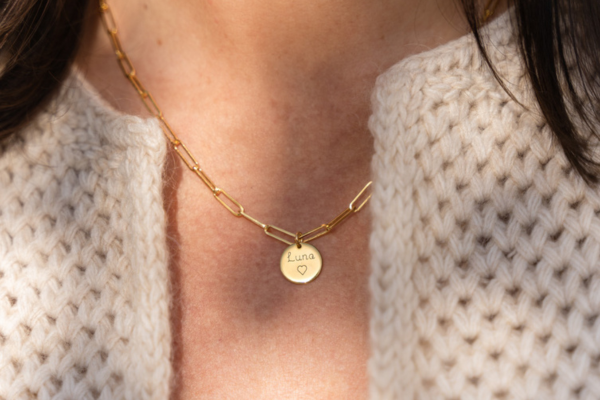 Dit artikel is door KAYA Sieraden aangepast op 31-03-2023