Hoe combineer je sieraden met je kleding?
Van een subtiele zilveren dames ketting tot een goed paar statement oorbellen: sieraden zijn er in allerlei stijlen, vormen en kleuren. Alleen al in de webshop van KAYA is de keuze enorm. Maar hoe kies je uit al die opties nou het perfecte sieraad? Het sieraad dat bij jou én bij je outfit past, want laten we eerlijk zijn: een outfit zonder sieraden is geen outfit. Het kan best lastig zijn om de juiste sieraden bij je kleding te kiezen: hoe combineer je al die sieraden nou eigenlijk met je kleding?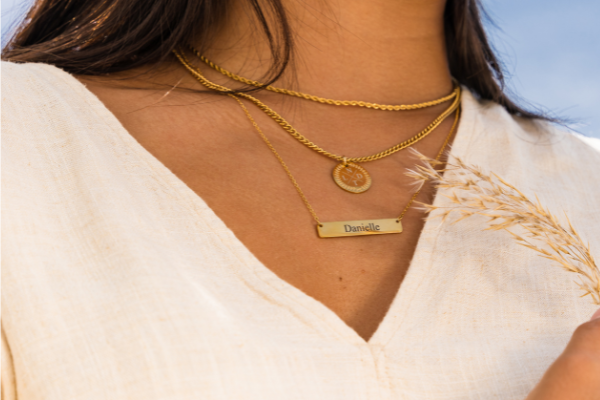 Welke sieraden passen bij jou?
Wij begrijpen natuurlijk dat je ontzettend hebberig wordt van een bezoekje aan de KAYA Sieraden webshop. Maar voordat je allerlei soorten sieraden in je winkelwagen plaatst: bedenk goed welke sieraden nou echt bij jou passen. Zilver of (rosé) goudkleurig? Houd je van wat grovere sieraden of ga je liever voor subtiel? En wat vind je van sieraden met gravures, zoals de populaire naamketting zilver? De mogelijkheden zijn eindeloos dus neem er even rustig de tijd voor. Zijn er meerdere stijlen die je aanspreken? Wees niet bang om toch wat verschillende sieraden te shoppen. Iedere gelegenheid en iedere outfit leent zich weer voor een andere set sieraden. 
Welke sieraden bij blauwe jurk
Ben je op zoek naar sieraden voor bij een blauwe jurk? Bijvoorbeeld omdat je een babyshower hebt, of omdat je als bruidsmeisje een prachtige jurk hebt gevonden. Wij geven je een aantal tips zodat jij de perfecte combinatie kunt maken. We beginnen met het kiezen van de kleur van je sieraad: goud staat geweldig met een donkere jurk, zilver matcht beter met lichte blauwtinten. Houd ook rekening met de kleur van je huid. Heb jij een warme ondertoon, dan zal (rosé) goud je waarschijnlijk fantastisch staan. Bij een koele ondertoon draag je liever zilveren sieraden.
Kijk verder goed naar de print op je jurk. Is de jurk van zichzelf al vrij druk, dan raden wij je aan om voor een subtiel sieraad te gaan. Op een effen jurk kun je het zo gek maken als je zelf wil. Pak uit met ringen,probeer kettinkjes te layeren en maak het af met een mooie zilveren armband dames: de sieraden geven jouw outfit dat extra beetje flair.
Welke sieraden bij rode jurk
Om sieraden met je rode jurk te combineren kun je de eerder genoemde trucjes hergebruiken. Omdat rood vaak vrij donker uitvalt, zul je hier wat vaker voor goud kiezen dan voor zilver. De goudkleurige sieraden schitteren in combinatie met jouw robijnrode jurk. Let ook nu weer goed op de print van je jurk. Ga je voor subtiele of toch wat grovere sieraden? Kies je er bewust ééntje, of combineer je meerdere parels om je outfit compleet te maken? Dit hangt niet alleen af van de print van je jurk, maar ook van de gelegenheid waarvoor je je kleed. Voor een sollicitatiegesprek kies je natuurlijk wat subtieler dan voor een avondje uit. 
Welke sieraden bij strapless trouwjurk
Je hebt een prachtige trouwjurk uitgekozen en bent nu op zoek naar bijpassende sieraden. Het belangrijkste is dat jij je op deze bijzondere dag goed voelt. Blijf dus dicht bij jezelf en kies sieraden die jij mooi vindt. Misschien heb je wel sieraden met een waardevolle betekenis, bijvoorbeeld omdat ze van oma zijn geweest, of omdat er een handgeschreven tekst op is gegraveerd. Omdat je hebt gekozen voor een strapless trouwjurk, kun je deze heel goed combineren met een mooie ketting. Een korte ketting past goed bij een ronde halslijn. Bij een wat diepere v-halslijn draag je beter een wat langere ketting.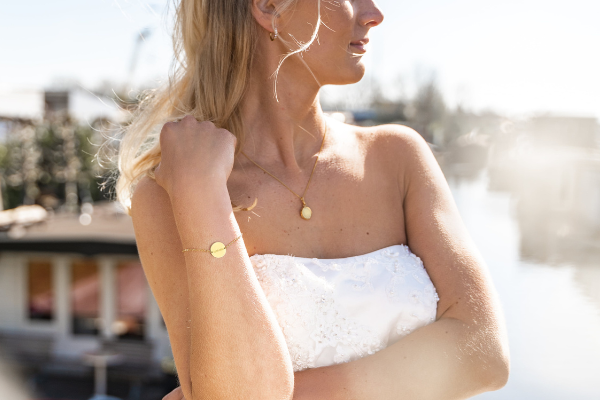 Sieraden met kleding combineren
We hebben je een aantal tips gegeven om de juiste sieraden met je kleding te combineren. Je weet nu wanneer je beter voor (rosé)goud of zilver kunt gaan, wanneer je subtiele of grovere sieraden draagt en wanneer je het beste voor een korte of wat langere ketting kunt kiezen. Vind je het toch nog lastig om de juiste sieraden te shoppen? Natuurlijk hebben wij in onze collectie genoeg sieraden die overal bij passen. Denk bijvoorbeeld aan de klassieke bangle: deze tijdloze armband past werkelijk bij iedere outfit én gelegenheid. Ook leuk en heel betekenisvol: kettinkjes met geboortestenen. Doordat je onze kettinkjes op verschillende lengtes kunt dragen past dit sieraad altijd bij je outfit. Zo zul jij er altijd stralend uitzien!